Colour Help


You asked and we've listened - this will be a page and info devoted to colours. What's available, what goes well together and how you can lay them out!!
There are endless options available - but we're here to help!
If you want bright rainbow colours - just write 'bright rainbow' colours in the colour selection notes! If you want pastels, write 'pastels'. If you want dusky mauve, dusky pink and pearl....well, you know the drill by now. Just let us know!!
Available colours in 2020 are as below.
AVAILABLE COLOURS
Solid, block colours look amazing. Choose any one of these below in most styles!!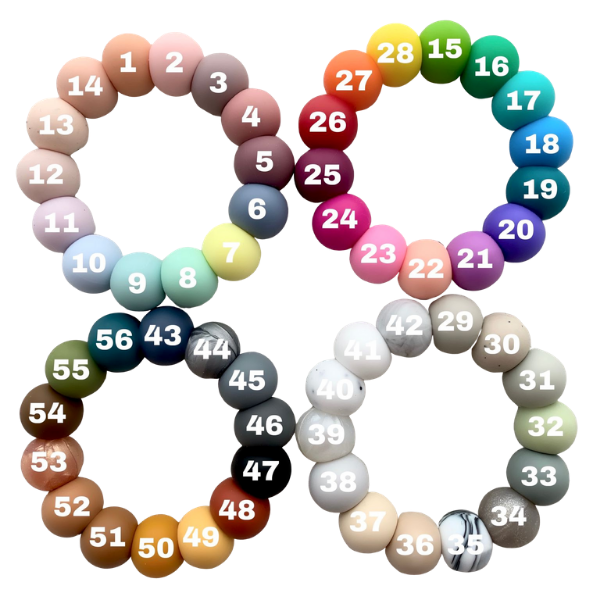 Recommended Colour Pairings
Sometimes you don't want a solid, block colour.....but it's hard putting colours together - and we totally get that!!
So for times when it's easier just to pick combinations and let us figure out the rest....please see the below colour ways:
DESERT: (from top) Tan, Relish, Mustard, Dark Peach, Peach, Blush granite + Cream
NATURAL RAINBOW: (from top) Blush Granite, Peach, Relish, Tan, Storm, Charcoal + Peacock
SUNSET: (from top) Cream, Dusky Pink, Peach, Dark Peach, Mustard, Dusky Mauve + Storm
EUCALYPTUS FOREST: (from top) White Granite, Pearl, Marble, Warm Grey, Smokey Quartz, Moss + Olive
VINTAGE RAINBOW: (clockwise from top) Blush Granite, Cream, Moss, Seafoam, Dusky Mauve, Rose + Peach
BLUSHING: (clockwise from top) Dusky Mauve, Lavender, Pastel Pink, Peach, Blush Granite, Dusky Pink + Rose
* please note: we will do our best to make sure the colours used are as per the below pics, however due to bead sizes, placements and personalised letter items - we may not be able to use all the colours. Colour use and placement is at our discretion - we will make sure they look good - I promise!!!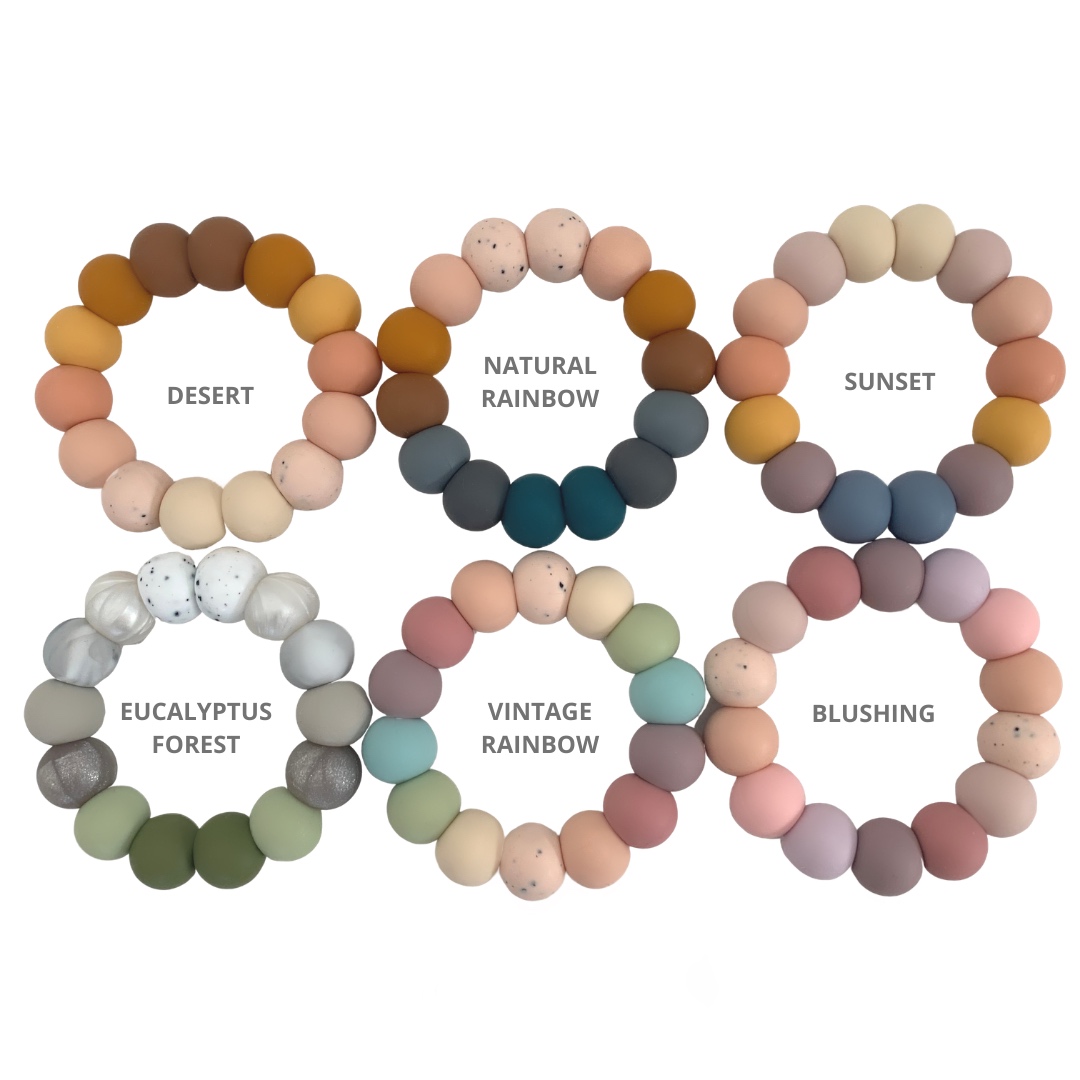 By no means is this an exhaustive list - there are almost unlimited pairings available!
Even if you like one of the combinations above but would like to leave one colour out - just let us know.
Honestly - customisation is heaps of fun and we love doing it!!