About Us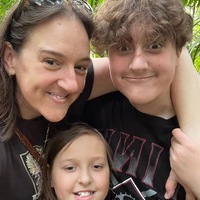 Hi! I'm Gina!
I'm a mum of 2 and live by the beach in Secret Harbour WA. Together with my wonderful partner and his 2 daughters, we make a blended family of 6.
Life is loud, messy and busy - I wouldn't have it any other way.
Founded in 2014, Nature Bubz ® products have been designed to fit in with current lifestyles; to be modern, minimal and aesthetically pleasing. Our focus is on offering a range of safe, quality products that are beautifully functional for the modern family.
We take pride in putting safety first, ensuring our products meet and exceed mandatory safety standards. We routinely send batches of toys off for independent certification at an Australian accredited testing facility.
100% family owned and operated, we guarantee exceptional customer service from start to finish. Thank you for supporting our small team, it means the world!
Gina xx